Officine Panerai has sponsored the replica Panerai Classic Yachts Challenge since 2005, which has now become the most important international regatta circuit for classic and vintage sailboats. The calendar now comprises 10 of the most prestigious regattas in the sailing capitals of the world. The season just kicked off the Antigua Classic Yacht Regatta and will land next in Antibes in the French Riviera from May 31-June 4.
Winners of each regatta receive specially engraved Panerai Luminor Regatta watches as prizes, which are rapidly becoming the Rolex Daytonas of the sailing world. (Not to be outdone Rolex awards Submariners to a select group of yachtsmen in its own sponsored regatta series.)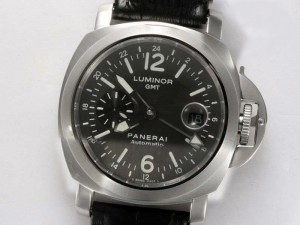 There is no doubt that the replica Panerai is celebrating the new season of sail-powered competition with three new limited edition watches: two Luminor 1950 PCYC 3 Days Chrono Flyback Automatics in stainless steel and a Luminor 1950 Regatta PCYC 3 Days Chrono Flyback Automatic in titanium. These will mark the start of a new series of PCYC watches for the brand. The 1950 denotes a historical reference for the watch, dating from the early days of the Luminor, and a vintage style dial similar to the Panerai Luminor GMT. The handsome chronographs designed for timing the starts of yacht races have the legend PCYC FLYBACK on the dial. The back of the case reveals the real distinction of the special edition models, however, with an engraving of a classic yacht and the inscription Panerai Classic Yachts Challenge.
The two 44mm flyback chronographs sport Panerai's Manufacture automatic caliber. The flyback function means the user can press a pusher to instantly zero the chronograph hands and immediately restart them (making them "fly back"). This fake watch is in an affordable cheap price and sized at 47mm is the real gem here. The larger size bucks the trend of scaled-down sports watches and will certainly appeal to a much smaller customer base, but Pieria replica watch enthusiasts hold the 47mm models in good esteem, and after all, the Panerai did start the oversized watch trend. From August to September, the PCYC races occupy the waters of New England, with regattas in Marblehead, Newport and Nantucket. Can you guess out who will be ready to win the watch?